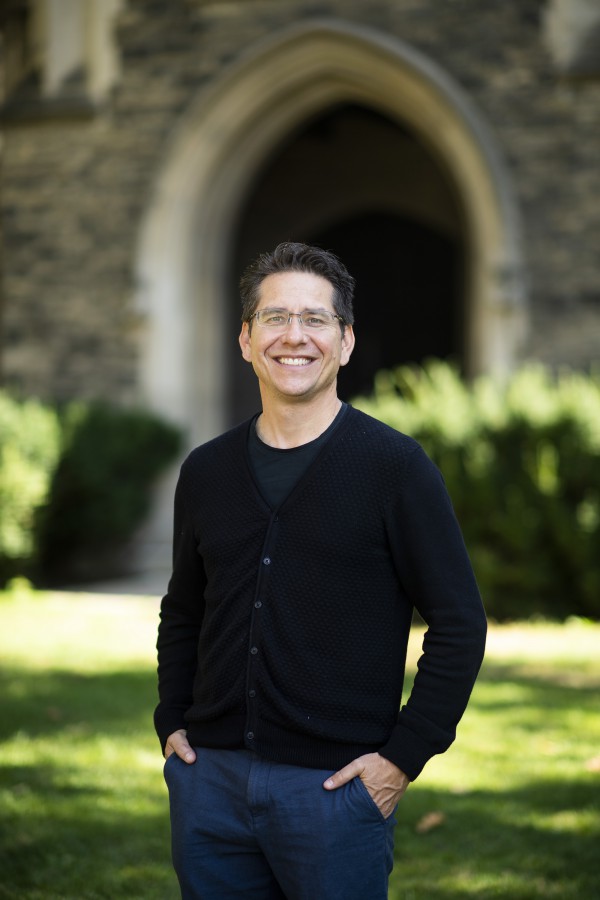 Assistant Professor, Teaching Stream in Theology,
June Callwood Professor in Social Justice
Special Advisor on Indigenous Issues
Master of Theological Studies, Emmanuel College at Victoria University in the University of Toronto
Bachelor of Education, York University
Bachelor of Business Administration, Concordia University


Teaching & Research Interests
Jonathan Hamilton-Diabo focuses on the history and impacts of Residential Schools, the Truth and Reconciliation Commission and the Calls to Actions; Indigenous interactions with Christianity and the Church; and building community relationships. As well, he is interested exploring the impacts of educational systems and teaching methods on individuals and communities. His teaching focuses on the use of personal stories, experiences and worldviews to make connections.
Aside from teaching, Jonathan seeks ways to enhance the presence of Indigenous peoples, culture and knowledge at the university as the Special Advisory on Indigenous Initiatives. He is the convenor of the Indigenous Advisory Circle at Victoria University.
The majority of Jonathan's university career was in Indigenous student services (First Nations House) and was the Director of the Office of Indigenous Initiatives (Provost's Office and Human Resources & Equity) at the University of Toronto. He has also taught at the Waterloo Lutheran Seminary (now the Martin Luther University College) at Wilfred Laurier University. Prior to entering post-secondary education, he was an ESL Instructor with LINC (Language Instruction to Newcomers to Canada) and coordinated a Basic Skills and Career Program for adults at the Native Canadian Centre of Toronto.
Jonathan is Mohawk from Kahnawake, a First Nations community outside of Montreal. He is a unwavering Montreal Canadiens fan, loves to downhill ski, has an uncanny knowledge of superheroes and comics and loves to spend time with his wife and children. Oh yes, there is also a bunny and cat at home.
Publications
Articles and Book Chapters
Hamilton-Diabo, J and Reynolds, T 2017. 'Two Ears, One Mouth: Theological Education Towards Respect', A Quest for Respect: The Church and Indigenous Spirituality, Special Edition of Intotemak, pp. 156-159.
Reports
U of T Steering Committee, 2017. Wecheehetowin: Answering the Call. Final Report of the
Steering Committee for the University of Toronto Response to the Truth and Reconciliation Commission of Canada.
Memberships
Ontario College of Teachers
Selected Courses
Emmanuel College
EMP 1621H – Multi-religious Theological Education and Leadership (member of teaching team)
EMT3664H – Indigenous Relationships – Exploring Faith, Church and Family
EMT 2151H – Residential Schools: Enactment, Responses and Calls to Action (new course)
EMT2155H – Engaging the Spirit: Indigenous Theological Worldviews
Victoria College
VIC150Y – School and Society, Vic One Program
VIC435H1Y – Community-Engaged Research, Capstone
EDS358H - Residential Schools and Education in Canada, Education and Society Program