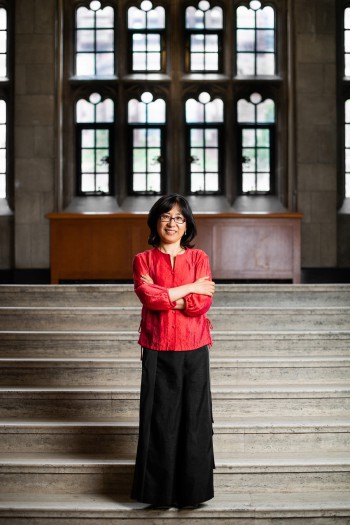 Welcome to Emmanuel College, a place offering unique and amazing opportunities in theological education for such a time as this!
If you are a new Emmanuel student, get ready for an unforgettable experience starting with transformative encounters with peers committed to life-giving service through an amazing variety of religious traditions. There are students from numerous Christian denominations in Canada and around the world, including The United Church of Canada with whom the school has historically been aligned. And it doesn't stop there! Muslim, Buddhist and other religious and spiritual traditions now call Emmanuel home, and some of our students identify themselves as seekers without committing to a religious tradition.
Here at Emmanuel, you will also find the most religiously, ethnically and linguistically diverse faculty at the Toronto School of Theology. Each faculty brings unique and brilliant gifts of teaching and scholarship. All are committed to the shared vision and mission of the College. They covet the privilege of being enriched, challenged and informed by all who come to learn and grow.
We live in a critical time when different faiths are living in ever-closer proximity to one another. The challenge of finding ways to thrive together and care for our planet is pressing. At Emmanuel, encounters with others will serve as a mirror that can help you reflect on your own religious traditions, practices and questions. These encounters will take place in classrooms, at the Chapel, in quiet mediation and prayer rooms, over community meals, or at College events throughout the year. They will ground you and lead you to serve for such a time as this.
If you are a prospective student, please explore the website, our social media, and contact us with your questions. We would love to have you become part of the Emmanuel community, one of the most respected theological schools in North America–a leader in interreligious, cutting-edge theological education. Alumni/ae and friends of the College are invited to explore the continuing education events we offer. Please let us know how Emmanuel can continue to journey with your life and ministry for such a time as this.
HyeRan Kim-Cragg
Principal
Timothy Eaton Memorial Church Professor of Preaching
Emmanuel College