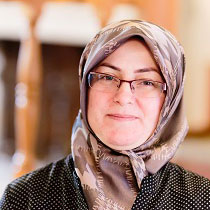 Master of Pastoral Studies Program Director
Assistant Professor, Teaching-Stream in Islamic Spiritual Care
BA/MA Baku State University
MA Carleton University
MSW University of Windsor
DMin Wilfrird Laurier University
PhD St. Michael's College, University of Toronto
Contact: 416-585-4536
Email: nazila.isgandarova@utoronto.ca
Nazila Isgandarova is a registered psychotherapist at the College for Registered Psychotherapists of Ontario, and a registered social worker at the Ontario Social Workers and Social Service Workers. She is also certified American Board of Forensic Professionals for the CMCC AMA Guides to Impairment Rating. She is the recipient of the prestigious Forum for Theological Exploration research award for her study on domestic violence against Muslim women, Canadian Association for Spiritual Care Senior Research Award and Society for Pastoral Counselling Research Award. Her primary area of research is psychotherapy, spiritual care and mental health.


Selected Publications

Islamic Spiritual and Religious Care. Waterloo: Pandora Press, 2019.
Muslim Women, Domestic Violence, and Psychotherapy: Theological and Clinical Issues. New York: Routledge, 2018.
Selected Book Chapters
"The Practice of the Laying on of Hands in Islamic Spiritual Care." In Therapeutic Touch: Research, Practice and Ethics, edited by Martin Rovers, Judith Malette, Manal Guirguis-Younger. Ottawa: University of Ottawa.
"The Impact of Maternity Beliefs on Reproductive Health in Muslim Societies." Muslim Mothering: Local and Global Histories, Theories, and Practices edited by Margaret Aziza Pappano and Dana M. Olwan. Bradford,ON: Demetr Press, 2016.
"Critical Analysis of Feminist Movements of Azerbaijani Muslim Women during Russian Colonialism." In Religion Long Forgotten: The Importance of Religion in Education towards Civil Society, edited by. D. Stepkowski, A. Murzyn, 157-172.Cracow: Oficyna Wydawnicza Impuls, 2014.
"Pregnancy and Childbearing." In The [Oxford]Encyclopedia of Islam and Women. Oxford: Oxford University Press, 2014.
"Women in Sunni Devotional Prayer." In The [Oxford]Encyclopedia of Islam and Women. Oxford: Oxford University Press, 2014.
"The Crescent of Compassionate Engagement: Theory and Practice of Islamic Spiritual Care." In Multifaith Views in Spiritual Care, edited by Daniel S. Schipani, 109-130. Waterloo: Pandora Press, Society for Intercultural Pastoral Care and Counseling, 2013.
"Muslim Spiritual Care and Counselling," The Spiritual Care Givers Guide to Identity, Practice and Relationships: Transforming the Honeymoon in Spiritual Care and Therapy, edited by T. O'Connor, E. Meakes and C.Lashmar, 135-256. WLU Press, Waterloo: WLU Press, 2008.
"Islamic Spiritual Care in a Health Care Setting," in Spirituality and Health: Multidisciplinary Explorations, ed. A. Meier, T. O'Connor and P. VanKatwyk, 85-104. Waterloo: WLU Press, 2005.
Selected Articles

"Muraqaba asa Mindfulness-Based Therapy in Islamic Psychotherapy." Journal of Religion and Health, (2018):1–15.
The Role of Practice‐Based Education in Islamic Spiritual Care: The Clinical Pastoral Education (CPE) Training." The Muslim World 108(2) (2018):349-363.
"The Role of Islam in Preventing Domestic Violence towards Muslim Women in Azerbaijan." Spiritual Psychology and Counseling 2(2)(2017): 183:202.
"The Correlational Approach to Islamic Spiritual Care." TidsskriftIslamisk-Kristent Studiecenter 1 (2016): 15-28.
"Physician-Assisted Suicide and Other Forms of Euthanasia in Islamic Spiritual Care." Journal of Pastoral Care and Counseling 69(4) (2015): 215–221.
"Music in Islamic Spiritual Care: A Review of Classical Sources." Religious Studies and Theology 34 (1) (2015). doi: 10.1558/rsth.v34i1.26326
"Practical Theology and Its Importance for Islamic Theological Studies." Ilahiyat Studies: A Journal on Islamic and Religious Studies 5(2) (2014).doi.org/10.12730/13091719.2014.52.109
"Canadian Licensing Changes and the Anticipated Impact on Islamic Spiritual Care and Counseling Practice in Ontario." Journal of Pastoral Care and Counseling 68 (3) (2014): 1-9. doi: 10.1177/154230501406800307
Memberships
College of Registered Psychotherapists of Ontario
College of Social Workers and Social Service Workers